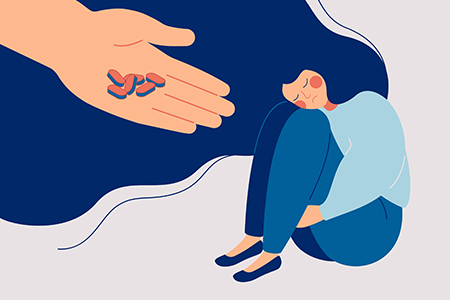 Mirtazapine garnered FDA approval as an antidepressant in 1997. It has been generic for so long that it no longer has an advertising budget and thus you won't see commercials for it on late-night television. Mirtazapine impacts serotonin and norepinephrine systems in the brain but is not a reuptake inhibitor. While SSRIs are generally considered first-line in major depressive disorder, mirtazapine is a medication worth remembering in certain situations.
Mirtazapine does not inhibit P450 enzymes and thus can be useful in depressed patients who have complex medical histories and are on complicated (and ever changing) medication regimens.
Mirtazapine does not cause sexual dysfunction greater than placebo, making it a potentially useful alternative for patients with depression and intractable, SSRI-associated, sexual dysfunction. Sexual side effects are seen in as many as 50% of patients on SSRIs and are frequently cited by patients as a reason for medication discontinuation.
Per the original package insert, 17% percent of patients taking mirtazapine experienced appetite stimulation. "Weight gain" is often all that prescribers remember about mirtazapine. It is true that this medication has a higher risk of weight gain than SSRIs, that this issue needs to be discussed with patients, and that weight needs to be closely monitored. However, it is also notable that only a minority of patients have this side effect. On the other hand, for patients who experience a profound loss of appetite as a feature of their depression, the potential for appetite stimulation with mirtazapine might be seen as an advantage.
Mirtazapine is a strong antihistamine and, indeed, the original package insert notes that 54% of patients on mirtazapine reported sedation, compared to only 18% for placebo. This side effect can represent a hindrance or a benefit, depending on the specific features of the patient's depression and on the degree of sedation. For example, psychiatrists sometimes use mirtazapine as an augmentation strategy for patients who have had a partial response to SSRIs and whose depressive symptoms include prominent initial insomnia. It should be noted that oversedation can impair performance and thus this side effect needs to be monitored by the patient and the prescriber.
Unlike the SSRIs and SNRIs, mirtazapine's only FDA indication is for major depression. In the intervening 25 years since its FDA approval, the bulk of mirtazapine's positive data remains for its use in major depression. There is some mixed data (variable strength of study and variable results) in generalized anxiety disorder and social anxiety disorder. However, we do not usually consider mirtazapine as a first- or second-line agent for monotherapy in anxiety disorders.
If you are considering using mirtazapine, please refer to your own reference material for full prescribing information regarding medication dosing, risks, benefits, side effects, monitoring requirements, and drug interactions.  We most often use Micromedex, UpToDate, or Epocrates.  Additionally, there are free databases available to Washington State providers at https://heal-wa.org/professions/. You can also call the Psychiatry Consultation Line (877-927-7924) for clinical advice on using mirtazapine in the treatment of major depressive disorder in adults as well as assessment, treatment decisions and monitoring of mental health conditions in general. Even in complicated clinical scenarios, discussing a patient's care with a colleague can lead to a path forward.
Author
Ryan Kimmel, MD
Professor, University of Washington School of Medicine, Department of Psychiatry and Behavioral Sciences
Chief of Psychiatry, University of Washington Medical Center
Medical Director, Psychiatry Consultation Line
Learn More
Treatment Resistant Depression
UW Psychiatry and Addictions Case Conference series (UW PACC)*
Presenter: Mark Duncan, MD
The objectives of this presentation are to 1) discuss pros and cons of treatment guidelines, 2) walk through cases to determine best options, and 3) Improve confidence in decision making around treatment resistant depression.
Using Stimulants to Augment Depression Treatment
UW Psychiatry and Addictions Case Conference series (UW PACC)*
Presenter: Ramanpreet Toor, MD
The objectives of this presentation are to review evidence of psychostimulant use in the treatment of depression.
*The UW Psychiatry and Addictions Case Conference series (UW PACC) is a free, weekly teleconference that connects community providers with UW Medicine psychiatrists and addictions experts. Sessions include both an educational presentation on an addictions or psychiatry topic and case presentations where providers who participate receive feedback and recommendations for their patients.